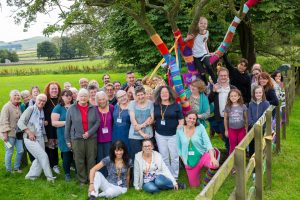 Hucklow Summer School: 18th-25th August 2018
'How, Then, Shall We Live? – Living, Dying, and Considering Our Legacy'
Download the 2018 Application Form Here
In a series of daily theme talks our team of speakers will offer their perspectives on the question of how we should live in light of the knowledge that we, just like all those who have ever lived, will ultimately die. What does a 'good life' look like? And how can we live a good and faithful life in practice, especially when we find ourselves in challenging personal circumstances, and as troubling world events unfold around us? What constitutes a 'good death' – and how can we best prepare ourselves for dying? And how might it prove fruitful to reflect on our own legacy – individually and collectively – while we are still in the midst of life, or even as we begin to sense that our lives are drawing to a close?
Our team of speakers: Jane Blackall, Michael Allured, Rob Gregson, Helen Simpson, Bill Darlison.
Morning Engagement Groups
Each person is part of a small workshop group which meets for two hours each day to explore a given theme. Please indicate your 1st and 2nd preference workshop (A, B, C or D) on the application form
A: 'Crossing and Dwelling: Marking Paths and Making Places' with Claire MacDonald and Mark Stewart
How do we remember and honour our life journeys? How do we cross the thresholds to come? What parts of our lives do we want to bless, curse, lay flowers on, sing songs to, bury, forget, revive, weep over, laugh about, tell a story about? Our workshop will be an up on your feet exploration, working together, listening and walking, sharing stories and retelling bits and pieces of the journeys we have taken, in order to think differently about the road we have come along and where we still have to go.
B: 'The Soulful Road' with Kate Dean and Elizabeth Harley
Is it possible to prepare a good death? How does this affect our life? We will explore the subject through the concept of 'the soul midwife', the role of ritual with the dying and what we can do to prepare for our own death. Going beyond the taboos of mortality, we will consider ways to support others on their Soulful Road. We will explore this subject through a variety of different approaches including 'deep listening', writing and discussion as well as some simple creative activities.
C: 'Tell Them Stories and Everything will be Well' (quotation by Philip Pullman) with Dot Hewerdine and Katie McKenna
We explain our lives, and understand the world, by using stories: in Philip Pullman's land of the dead, it is only by telling stories of the richness of life that souls are released to the universe. How do we discover the truth in our own stories, and how do we listen to others so that we understand the truth in their stories? In this group we'll look at the importance of story in communication between all humans, and investigate our own lives and values using our life stories.
D: 'A Journey through the Valley of the Shadow: Love, Loss and Remembrance' with Danny Crosby and Jef Jones
To be alive and to be touched by other people's lives is a precious gift. When we lose someone we love and who has loved us, inside our sorrow there are questions: Where is the Love now that they are gone? What meaning can we make out of our loss? How do we create lives of remembrance? What love will we ourselves leave behind? In a safe and creative group setting we will work with our shared experience of grief and look for the treasure within it. We will explore together how lamenting, commemorating and honouring might make our lives more meaningful and more beautiful; we will explore ways in which our lives will prove worth dying for by the love we leave behind.
Prices and Application Process
Adult Shared: £520
Children 12-16: £410
Children 5-11: £350
Children under 5: 150
Download the 2018 Application Form Here
Please Note: We aim to break even and do not typically make any profit out of summer school. The rates we set reflect what it costs for us to put on the event. £406 of the basic rate is the cost of a week's full-board accommodation at the Nightingale Centre. The remainder of the cost is a 'conference fee' which helps to cover the cost of our team of staff / organisers.
Rooms at summer school are usually shared.  Availability of single rooms is very limited and so these places will be carefully allocated on the basis of need for people with special circumstances. If you have particular medical or other reasons why a single room is essential then you must inform the panel of your circumstances at the time of application so that we can take this into account. A supplement of £55 will be payable for places in single or shared-en-suite rooms. Please Note:  It is a policy of summer school that family members/partners should participate in different morning engagement groups.
Please complete and return an application form with a deposit of £100 per person. Cheques are to be made payable to the General Assembly of Unitarian and Free Christian Churches. Contact us for further details if you would prefer to make a bank transfer or pay by telephone.
The panel aims to attract approximately one-third newcomers to participate in the Summer School every year. We have set a deadline of Friday 30th March 2018 for receipt of applications to Summer School. Shortly after this date, places will be allocated by the members of the panel, giving priority to first-timers and ministerial students, subject to the constraints of available accommodation. Please note that deposits will be banked on receipt and if your application is unsuccessful we will refund your deposit at a later date. Deposits will only be refunded if you are not offered a place. If you need to drop out after you have been allocated a place neither the deposit nor the full balance is refundable. Please consider taking out appropriate insurance as we regret that we are unable to issue refunds for late cancellations (made after the date when the balance of payment is due, six weeks before summer school).If your application is successful, the balance will be due six weeks before summer school, on 6th July 2018.
Bursaries: Please do not let a shortage of money prevent you from attending! Summer School bursaries are available (typically up to £200 for first-time attenders and £150 for returning attenders) and we may be able to advise about other local funding sources. Please contact us as soon as possible if you are likely to need assistance with funding.