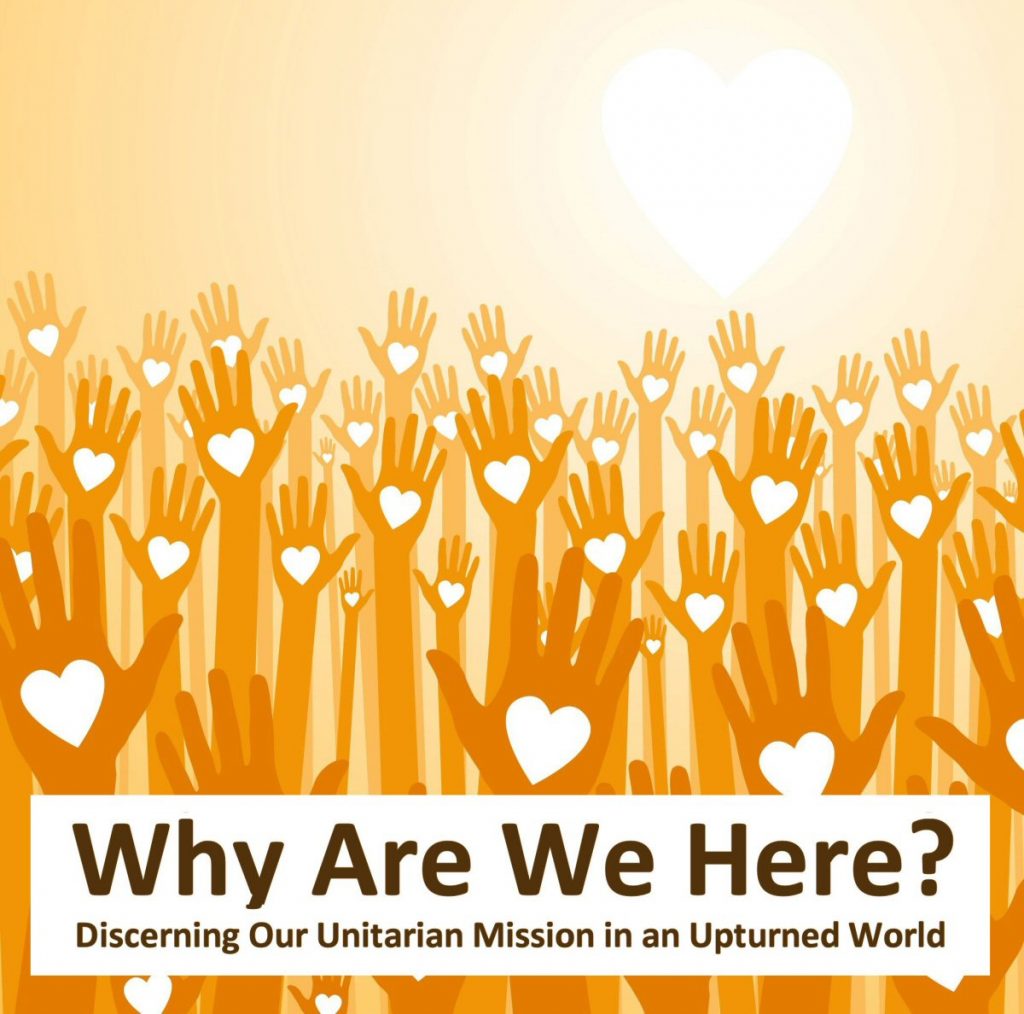 Hucklow Summer School 2021 – ONLINE
'Why Are We Here? Discerning our Unitarian Mission in an Upturned World'
A series of FREE online events in the week of 21st-27th August 2021
We are once again presenting an online series of events during the August week when Hucklow Summer School would usually take place. There will be a worship service at 7pm on Saturday 21st August, led Jane Blackall and the summer school panel, and five daily theme talks at 7pm from Monday 23rd-Friday 27th August (given by Jo James, Shana Parvin Begum, Rory Castle-Jones, Stephen Lingwood, and Kate Brady-McKenna). During these events we will be considering the question 'What is our Unitarian church for, anyway?', examining how the landscape of 'doing church' has changed (especially during the last eighteen months), pondering how we can flex and adapt in turbulent times while remaining true to our religious roots, and offering some constructive visions for Unitarianism in the challenging landscape of the twenty-first century. Each talk will last an hour and will be followed by optional time for small group conversations to reflect on some prompts offered by the speaker. These events are free of charge but you must sign up in advance.
Pre-registration is essential – you will receive full details and Zoom links in the week prior to the event:
Saturday 21st August, 7-8pm – Opening Worship led by Jane Blackall and the Summer School Panel
Tonight's Service: Tonight's opening worship will gather us together in preparation for this week of online summer school events and begin to introduce our theme of mission. Click here to download the order of service.
About Jane: Jane is currently serving as Ministry Coordinator with Kensington Unitarians, where she has been a member for 22 years, and is on the brink of completing ministry training with Unitarian College. Prior to this, she worked for the congregation for over a decade as outreach officer, with a focus on communications, small groups, and adult religious education. Jane previously had a brief career in academic research, in the field of medical image computing and radiological sciences, then opted to change direction with a degree in Philosophy, Religion, and Ethics. She has been involved in running Summer School since 2005 and is fanatical about the power of Engagement Groups to transform lives, communities, and the world. In between work, study, and mucking about on the internet, Jane enjoys gardening, birdwatching, baking, and crafts, and is a keen armchair spectator of cycling.
Monday 23rd August, 7-8pm – Talk by Jo James
Tonight's Talk: "What is the spirit saying in the churches?" Are we 'spiritual not religious'? If so, what does spiritual mean? Are we ourselves religious or does religious diversity meant that we are a space to talk about being religious? Drawing on insights from the academic study of religion and several years' experience of practical ministry this talk aims to provoke and stimulate discussion but also to deep dive into sacred experience.
About Jo: Jo is the minister of Mill Hill Unitarian Chapel, Leeds – a progressive, inclusive community offering a fresh approach to the sacred. I love poetry, theatre, film, performance, art and music. He has qualifications and experience in Ministry, Theology, Study of Religion, Drama, Counselling and Co-counselling. I lead worship, celebrate life events and offer pastoral support and counselling. Before ministry he worked in the theatre for over twenty years as an actor, including work at the RSC, National Theatre, Old Vic, Royal Court, Almeida and as an independent performer directing new writing and devising new work at festivals in Edinburgh, Dublin, Cardiff and all over the World. Jo is married to Ann, a ceramic artist, and they have two young children.
Tuesday 24th August, 7-8pm – Talk by Shana Parvin Begum
Tonight's Talk: Through stories, experience and wisdom Shana hopes to explore what we could collectively choose to do differently to create places of worship that are truly welcoming to all.
About Shana: Having attended Summer School twice (in-person!) Shana is really honoured to be invited to be a theme speaker this year. Shana has a background in media, trained in counselling and yoga, and works with children where she brings in her passion for psycho-education and wellbeing. Coming from a lineage of Sufi pirs Shana is also a practitioner of Bhakti Yoga and was given the spiritual name Sri Devi by her Guru. She enjoys playing her ukulele, drumming, chanting and dancing like nobody's watching.
Wednesday 25th August, 7-8pm – Talk by Rory Castle-Jones
Tonight's Talk: "Fearless and Fervent Folk, Poems and Poetry, Songs and Suffering": how the radical story of Welsh Unitarianism can help us discern our mission in the twenty-first century. For over two hundred years, radical Welsh Unitarians have helped shape their nation and – sometimes – the world, from Iolo Morganwg to Frank Lloyd Wright. Today, as churches and people of faith grapple with their purpose and mission, what can we learn from the radical stories of our spiritual ancestors?
About Rory: Rory Castle Jones is minister-elect of Gellionnen Unitarian Chapel in the Swansea Valley and also works part-time as the Communications Officer for the General Assembly of Unitarian and Free Christian Churches. Rory first discovered Unitarianism in 2015, when searching for a chapel willing to conduct same-sex marriage ceremonies. He married his husband at Gellionnen Chapel in 2016 and became involved in congregational life. In 2018, he gave up his job in Higher Education to work full-time for the Unitarian movement and to train for the Unitarian ministry with Unitarian College, completing his training in Summer 2021. He lives in the small village of Craig Cefn Parc in the Swansea Valley with his husband Rhys and their dog Edna.
Thursday 26th August, 7-8pm – Talk by Stephen Lingwood
Tonight's Talk: On the prophetic mission in the climate crisis as the cultivation of resistance, repentance, and resilience.
About Stephen: Stephen Lingwood is a pioneer community minister, serving the congregation of Cardiff Unitarians / Undodiaid Caerdydd and doing grass-roots mission work in inner-city Cardiff. Previously he worked for nine years as minister of Bank Street Unitarian Chapel in Bolton. He is author of The Unitarian Life: Voices from the Past and Present and Seeking Paradise: A Unitarian Mission for Our Time. He works in Riverside, a diverse, inner-city area of Cardiff, engaging in dialogue with artists and political radicals, working on climate activism, and collaborating with other faith-based activists. He is exploring what it means to seek paradise in one urban neighbourhood in the age of the climate crisis.
Friday 27th August, 7-8pm – Talk by Kate Brady-McKenna
Tonight's Talk: What should we, as Unitarians, do if it turns out the world is ending? What should we do if it turns out it isn't? How can we safely lament the collective and individual trauma of the last couple of years, and how do we find and share comfort?
About Kate: Kate (she/her) is minister with the Unitarian congregation in Bury, East Lancashire, where she has been for nearly five years since moving from Norwich. She loves Jesus and Gaia and celebrates whichever festivals make her heart and soul sing, which allows for a lot of celebration. She is proudly Queer. Her desert island book would be a compilation of the entire Chalet School series, and for music she would take everything by Steeleye Span, although she'd pretend she'd take everything by Telemann. She is a proud dog-bore, likes making jam, and gets sad if she doesn't see the sea a few times a year. Her favourite hymn book is the purple one, and she loves the psalms.